LEWIS Industrial Single Width Scaffold Towers 3.2m Long (10'x2')
13.7m (44'10") Working Height | 11.7m (38'5") Platform Height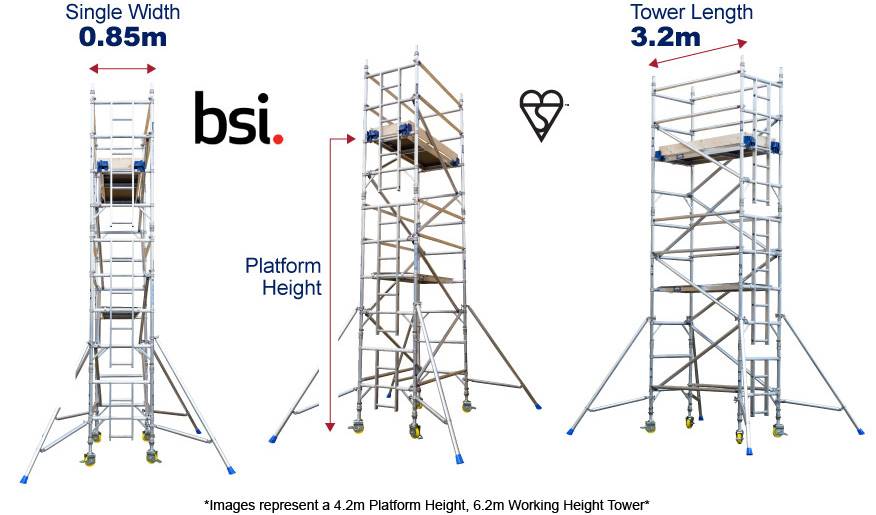 Product Information
Certified to the very latest BSI Kitemark in respect to BSEN 1004 (Class 3) safety standard for your safety and reassurance. We Can Provide A copy Of Our certs Upon Request.
Supper Increased rigidity
Single Width Towers are 900mm Externally & Double Width Towers a 1500mm Externally
Fully compatible with SGB BoSS Towers – If you have used these towers, or hired from larger hire companies, this is what our towers are compatible to.
Integral ladders with comfortable D section for secure footing. Inferior Imports Have Oval Shaped Or Rectangular 30mm Diameter Bars.
Aluminium Tube: 50.8mm Tube with a 1.8mm Wall thickness. Inferior Imports Have 30mm – 40mm Diameter 'Poles'
Frame horizontals have 500mm spacing and ribbed tubing for increased grip
Two Frame widths of 850mm & 1450mm
3 deck lengths: 1.8m, 2.5m and introducing our new 3.2m
Self-closing trapdoors & Simple wind lock clips
Safe working load of 275kg per platform level up to a maximum of 950kg per tower (including self-weight). Inferior Imports Vary From 125kg – 200kg, but Never To the Current Standard. Please be aware of this important difference
Patented trigger operated locking claws
Fluted Floating spigots for easy assembly & dismantling. Inferior Imports do not have this at all.
150mm Locking Castors, With a certified Weight Load of 925kg
Unique deck Extruded profile protects edge of deck board
Lifetime Support – We are a phone call away. We offer 100% satisfaction to our customers. Before, During and After You Have Purchased.
Robust components that make up our Industrial LEWIS Scaffold Towers
| | | | | | | |
| --- | --- | --- | --- | --- | --- | --- |
| | | | | | | |
| | | | | | | |
| Adjustable Legs/Wheels | | Locking Frame Clip | | Integral Ladder | | Platform Hook |
| | | | | | | |
| | | | | | | |
| | | | | | | |
| Stabiliser Foot | | Stabliser Clamp | | Brace Hook | | Platform Trap Deck |
| | | | | | | |
Technical Information
| | |
| --- | --- |
| Components with this LEWIS Scaffold Tower | |
| Dual Locking Castors - 150mm Locking Castors | 4 |
| 500mm Adjustable Leg | 4 |
| 2 Rung 1m Ladder Frame | 1 |
| 2 Rung 1m Span Frame | 1 |
| 3 Rung 1.5m Ladder Frame | 1 |
| 3 Rung 1.5m Span Frame | 1 |
| 4 Rung 2m Ladder Frame | 5 |
| 4 Rung 2m Span Frame | 5 |
| Trap Door Platform | 4 |
| Horizontal Brace (red trigger) | 18 |
| Diagonal Brace (blue trigger) | 22 |
| (New style) Complete Toe-board Set | 1 |
| Standard Stabiliser | 0 |
| Jumbo Stabiliser | 4 |
| Instruction Manual & BSEN1004 certificate of conformity | 1 |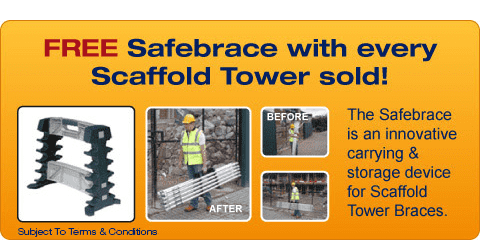 Tower Specification
Working Height: 13.7m
Platform Height: 11.7m
Base Dimensions: 3.2m Long .850mm Wide (10ft x 2ft)
Product Code: 32SW117
Classification: BS EN1004
Availability: Next Day
Retail Price: £2334.99

Our Price:
£2059.99+vat