Industrial Staging Boards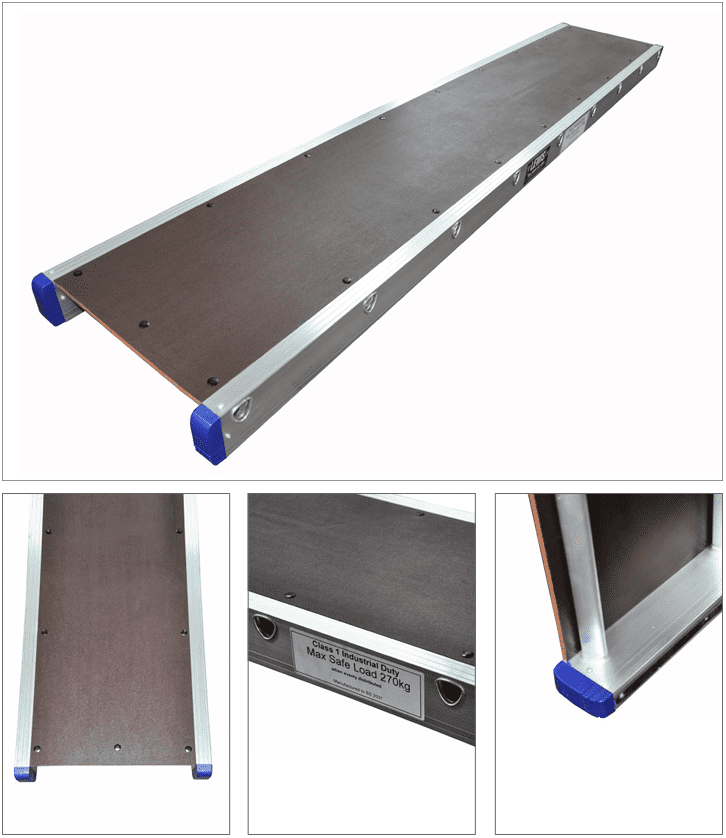 Product Information
Non slip phenol faced plywood
All aluminium Struts under side and stile.
Available in 450mm & 600mm
Heavy duty end protectors for the most demanding sites
Very sturdy and superior quality light weight staging board
Two width sizes, 450mm and 600mm and a range of sizes from 2.4m up to 6m Long.
The Board is connected to the tower, via overlapping. The board must over lap on each side by a minimum of 1m
The total weight on the board has to be even distributed
To be used as a walk way not for storage of material.
Technical Information

| | | | | |
| --- | --- | --- | --- | --- |
| CODE | LENGTH | WIDTH | WEIGHT | COST Ex Vat |
| LSB24 | 2400mm | 450mm | 13.5kg | £96.01 |
| LSB30 | 3000mm | 450mm | 15kg | £109.89 |
| LSB36 | 3600mm | 450mm | 17.5kg | £123.73 |
| LSB42 | 4200mm | 450mm | 22kg | £150.40 |
| LSB48 | 4800mm | 450mm | 27kg | £164.26 |
| LSB54 | 5400mm | 450mm | 30kg | £185.54 |
| LSB60 | 6000mm | 450mm | 33kg | £199.38 |
| LSBL24 | 2400mm | 600mm | 15.5kg | £99.81 |
| LSBL30 | 3000mm | 600mm | 16kg | £114.07 |
| LSBL36 | 3600mm | 600mm | 18.5kg | £128.07 |
| LSBL42 | 4200mm | 600mm | 23kg | £150.28 |
| LSBL48 | 4800mm | 600mm | 28kg | £169.88 |
| LSBL54 | 5400mm | 600mm | 32kg | £191.71 |
| LSBL60 | 6000mm | 600mm | 35kg | £206.08 |

Further information on the LEWIS Staging Boards
We have developed a staging board that we believe is one of the finest on the market today. Not only is our staging board made from lightweight aluminium material (very easy to move around), the surface is made from non-slip phenol faced plywood (to give you that extra foot grip in wet weathers), tough and strong with aluminium Struts under side and stile (can hold up to 30 stones – this is the equivalent of two painters or decorators with their cans of paint and brushes ).
The edges are sealed with toughened industrial rubbers to protect the board from water, ants and small insects getting into the aluminium slat during storage. These heavy duty end protectors come in very handy in protecting the aluminium ends of the board for when you are working on demanding sites.

Our staging board - the LEWIS Staging Board is quite a beautiful piece of work; Clean, smooth to the touch, carefully manufactured in our London Factory, light to carry, durable, portable, weather resistance, multi-purpose usage, ease of storage, these are just some of its features.
Physical Attributes
Our Staging Board comes in two width sizes – 450mm and 600mm. The length starts from 2400mm all the way up to 6000mm. Because our staging boards are made from tough lightweight materials, they only require support at each end. None is required in the middle. Light but tough.

As we mentioned above the LEWIS Staging Board has multipurpose usage. Now down to some practical usage.
Spanning or straddling more than one scaffolding tower.
We will we start from the most popular or obvious down to the least obvious.
The majority of customers buying the LEWIS Staging Board are those who have bought their Aluminium Scaffolding Towers from us. They usually buy the staging board to straddle two or more aluminium Towers. In this case, not only is the board been used as a bridge between two or more towers, it also serves a s a walkway.
Now a very important point. If you are using the board as a straddle and a walkway between two towers, you must have a properly constructed and secured handrails on either side of the board going from one scaffolding tower to the other. The same minimum of 1 metre from working platform to top of tower applies (please see our http://www.scafolfd-tower.co.uk/scaffold-tower for more information and guidelines on working platform and working height). If you require any assistance or further information on this, please call us on 0845 257 5991 (eight lines)
Our staging boards are designed with non slip rubber slips at the bottom. This holds the board in place and stops it from slipping when used to span towers.
Used as part of a run.
Lets say you are a building contractor and you are fixing or replacing the tiles or claddings on a building and on this job your men require between ten to twelve towers to go round the building, you can use staging boards to connect all the towers together and that way, you end up with one continuous run. This means that any of one of your men can move from one end of the tower to the other without having to always come off the tower. By using staging boards, this can also reduce the number of towers that you will require on this job. Once again, if you require any assistance or further information to help you plan your requirements, please call us on 0845 257 5991 and we will be happy to assist. Painting the outside of a building
The staging board used with our trestles will enable you cover a wider area of the building in any one go, thereby saving you time and getting the job done a lot quicker than if you were using one of our aluminium step ladders.
Not for Home or DIY Use unless you are a trades man – high hedges
Another area that you can put the staging board to use is if you have a garden with high hedges. If you have already purchased two or more trestles from us, you can use the staging board together with the trestles to sort out the high hedges. That way, you can cover a wider area of the hedge in one go - saving you valuable time especially on a weekend. This means that you get the job done in no time.

Why pay more?

We are passionate about British made, craftsman built, high quality products.
As you deal direct with the manufacturer, there are no middlemen, no shops, no dealers, making our prices exceptionally good value. all at factory direct prices!


Sold to the hire industry, tradesman & end users throughout the UK at realistic prices.