Craig Spider Richards victorious and back to his winning ways
Halloween came early at the O2 Arena on Saturday night but Craig Spider Richards wasn't about to leave any treats for his opponent, Marek Matyja. The light heavyweight bout on the undercard that was headlined by Dillian Whyte and Otto Wallin, was Richards' first since his loss to Russian Dmitry Bivol back in May of this year. It only took one match for Richards to get back to his winning ways though, as the Crystal Palace native managed to improve his career record to 17-2-1.
The Spider marched to the ring donning a mask from the Netflix series Squid Game
The Spider marched to the ring donning a mask from the Netflix series Squid Game, along with the accompanying music from the popular Korean show. Was it an early Halloween costume or a tactic meant to intimidate his opponent?
Whichever it was, it surely worked, as Craig managed to overwhelm Matyja with an impressive knockout win in Round six of the fight. It was his tenth career victory by either knockout or technical knockout and his ninth of which has come in Round six or earlier.
While Matyja entered the fight with an impressive record, Richards was likely his stiffest competition thus far. It was Matyja's first fight against an opponent outside of his native Poland, and many expected Richards to dominate the fight. It is certainly a relief for Richards to get back into the win column, although his world ranking may not move much higher as Matyja is a relatively unknown fighter outside of Poland.
The fight itself started pensive, as both boxers played defensively in order to feel each other out. Both boxers are known for starting matches cautiously, and that was definitely on display. It's not uncommon for two new opponents who do not know much about each other to start a fight like this, although some may be surprised that it took until Round six for Spiders to gain the upper hand.
Craig Spider Richards victorious against Marek Matyja
Richards steadily increased his aggressiveness as the rounds went on. It really did take all that Matyja had to stay in the fight, as the Polish boxer continued to retreat on the defensive as Richards raised the intensity of his onslaught. A crushing left-handed blow to the head was the final shot that Matyja could take, and the referee called the fight despite argument and protests from the Polish fighter's team.
Things got off to an interesting start when Richards refused to return Matyja's fist bump gesture at the official weigh-in the day before the fight. While some may see this as poor sportsmanship, we know that Craig Spider Richards is all business up until the fight. He would never disrespect an opponent, and besides, he shook hands with Matyja at the press conference on Thursday.
Humility and respect for his opponent are just two of the reasons why he is so beloved on the UK boxing scene. So what's next for Craig Spider Richards? He will no doubt continue to rise to the ranks of the light heavyweight division in hopes of once again challenging for a title belt. Needless to say, It won't be long until we see Richards highlighting a fight card once again.
As Craig's Sponsor…..
We are obviously delighted but not at all surprised. In fact, you can see that we wrote
As his sponsor, we have no doubt that Craig Spider Richards is ready to return with a victory
In the article, Craig Spider Richards is ready to return with a victory before the fight at O2 on Saturday 30th October 2021.
Not only was Craig Spider Richards victorious but Lewis whom our brand is named after met some big names on Saturday night
Here is Lewis with Conor Benn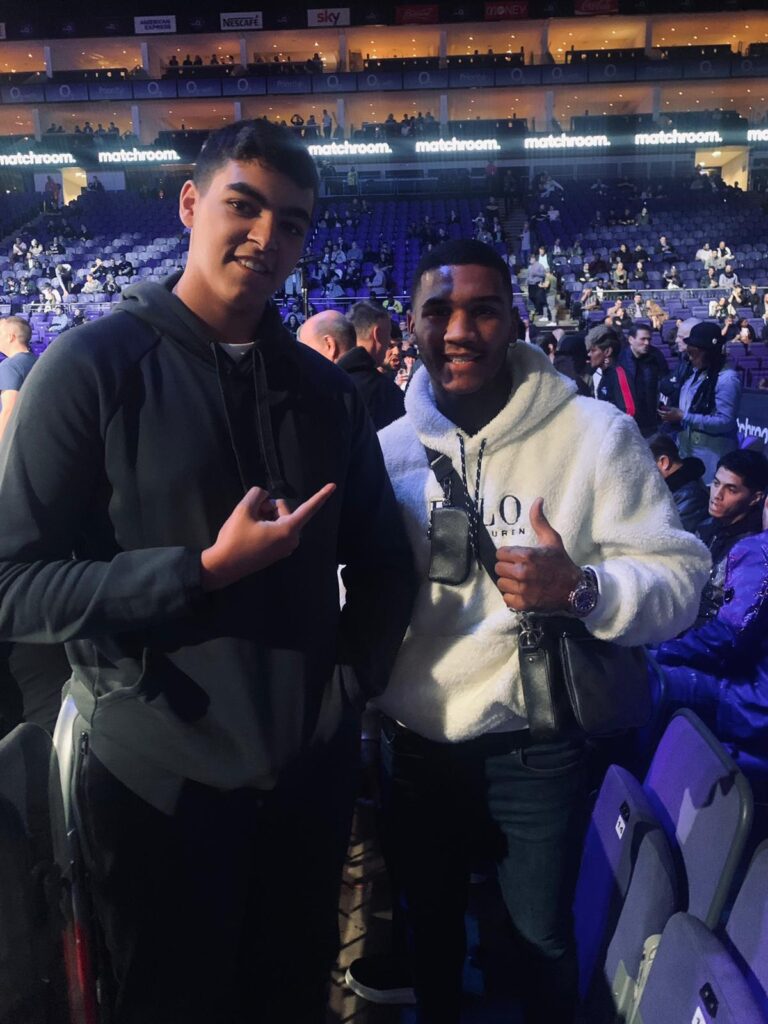 And with Barry Hearn