On Saturday 2nd February fight fans finally got the boxing match they had been waiting for as Craig 'Spider' Richards stepped into the ring to take on Jake Ball.
This was a fight which should have happened months ago but Ball withdrew close to the start of the bout due to injury. This left Richards feeling frustrated and despite having an opponent to fight on the night, which he defeated, much of the preparation would have felt like a waste.
What followed was a verbal exchange via social media and it was not the first time Richards has had a fight cancelled. Speaking after the fight against Ball, Richards said, "Last year I was really disheartened, spending so much money in camps and fights getting cancelled. I needed a big fight."
Indeed, Richards only loss of his professional career came at the hands of Frank Buglioni towards the end of 2017 and this was a fight which the 'Spider' took at late notice. He had only 5 days to prepare whereas for this fight against Ball, Richards was well prepared and it showed.
Richards would have been forgiven for trying to take out his frustration on Ball following the cancellation of their first meeting and the verbal jostling which followed. However, Richards took a measured control of the fight in the early stages and it was clear Ball was going to be on the back foot from the first bell.
It did not take long for Richards to land the first serious blows of the contest and a straight right hand sent Ball to the canvas in the first round.
Ball could not handle the power Richards was demonstrating, especially with his right hand and it delivered another telling punch in the second round which had Ball reeling for again in the fight. Richards was well on top by this stage and moving into the third round, it became clear there was only going to be one winner. It was simply down to a case of when Richards wanted to stop the fight.
The answer was the third round and more heavy punches sent Ball down for the final time. Ball could not recover and Richards was taking no pity and forced the referee to stop the fight.
This was a special victory for Richards who has worked hard and waited a long time for this bout. The 'Spider' claimed the WBA Continental Light Heavyweight title and it appears a bigger fight is on the horizon.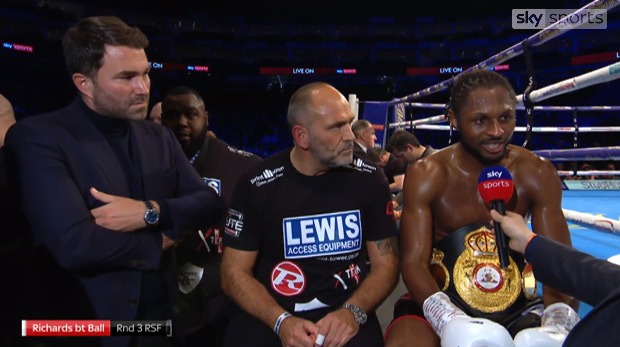 Speaking after Richards' impressive performance Matchroom promoter Eddie Hearn said, "Winning like that was a real statement. He's punching very hard. He's now going to be ranked top 15 in the WBA."
The light heavyweight division is currently full of good fighters, with Richards being one of them. It is very exciting to think who could be next to step into the 'Spiders' web and feel the power of his right hand.