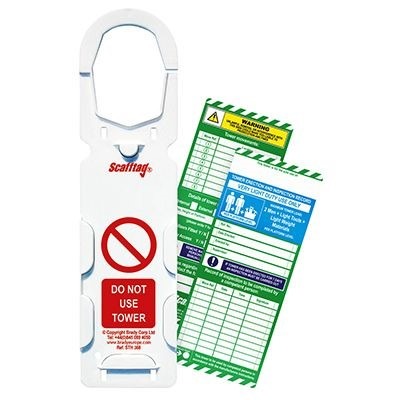 Scafftag Scaffolding Tags
With clear colour-coding (red for danger and green for the inspection details) these scaffolding tags are perfect for alerting your team to unsafe scaffolding. There's plenty of space to record the details of inspections too. Improve your mobile tower safety with our complete range of mobile tower inspection systems to allow movements, safe working load and inspection data to be clearly displayed at the point of use.
Price is for one insert and one insert holder.
About scaffolding tags
Scaffolding tags might not be a legal requirement, but they are a sensible way to add clarity to scaffold inspections and can go towards preventing accidents on your site. We recommend using them to avoid downtime through accidents or damage to scaffolding equipment. Clear signage can help your team quickly understand which scaffolds have been inspected and when, and therefore know which are safe to use and which should be avoided. Without scaffolding tags in regular use on our construction sites and projects, accidents and injury would almost certainly be higher than they are today.
The HSE say "Using a visible tag system to supplement inspection reports is a useful way of ensuring those who need to access the scaffold know that it has been inspected and is safe to use".
£19.19 Inc VAT
£15.99 Exc VAT