About Us - Mark Guirard, Founder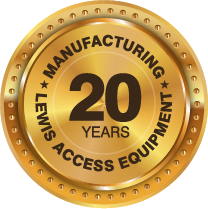 It all started 20 years ago in my purpose-built garage at the back of my garden, decided to go into Scaffold tower manufacturing coming from a tool hire background knowing there will always be a demand for working at height and Good Quality Equipment. I took a welding course and gained my coding for aluminium tig welding (certification).
2004

We had designed our first prototype tower with the help of a structural engineer for in-house testing, at this point I talked my younger sister into giving up her teaching job to come and work alongside me as a sales rep for the company.

2005

One year passed and the working at Height Regulations came into force.
We built our website scaffold-tower.co.uk and could not believe the demand. We moved out of my garage and rented our first industrial unit.
My Son LEWIS was born and i decided to name our products after him.

2006

Was a big game-changer, we purchased 15000 square foot of industrial units in London and applied to have our products certified by the BSI, a big move for us as both investments were extremely high, pleased to say after months and months of product testing and production procedure checking we achieved what we consider the highest Product certification award in our industry, the BRITISH STANDARD KITEMARK LICENCE.

2007

Our Production staff levels was growing every 6 months, more Tig welders, Factory workers even admin staff to deal with production and customer service.

2008

Was simply the worst year, rescission hit hard and we all felt the squeeze, not needed when investment is at an all-time high and a factory full of workers. With split shifts, we managed to keep all staff throughout that year.

2009

Eldest Daughter Lauren Joined the company fresh out of college and full of bright ideas, Customer focus was on her agender, being 100% focused on the customer needs through the hard times would mean we stood out from the competition, It worked.

2010

Designed and Patented the Safe Brace, an innovative carrying device for scaffold braces.

2016

Purchased the Patent for the famous Scaflock system, another innovated device for making sure no unauthorised dismantling of a scaffold tower takes place.

2017

Introduction of CAD design for customers requiring bespoke equipment. We have been focusing on more specialist requirements at this stage. We employed new inhouse staff as part of our design, technology and development – to ensure we had the right resources to do what was asked of us!

2019

This was a very big year for LEWIS. We decided at this point to take our manufacturing processes and quality, to a new level. We had invested heavily into new machinery including three new Robotic Welders. we needed to upscale our level of production, but also to increase and better our equipment from a quality perspective. Alongside this, we invested in a new part of our business, and opened our own foundary. It had taken a long time and lot of strategic planning and investment.
Today I am proud to say we hold many different Kitemark Licences, work closely with the BSI testing institution, very much customer focused and offer the keenest prices in the UK with a backup service unmatched in our industry.
Thank you for reading this.


Mark Guirard, Managing Director
What makes us different
No Middleman
We remove the middleman from the traditional sales model. This creative business structure offers many great benefits, most notable, a less price, faster service and most of all we hear our customers needs.
Quote from FOREX.
"Cutting out middlemen is just a simple and healthy business practice"
Quote from Direct line insurance
"Take out the middleman and you could avoid extra costs"

We are licensed to manufacture Mobile Access Towers to BS EN 1004 : 2004, and which carry the current British Standard Kitemark or other equivalent mark of approval (e.g. TUV, NF Mark, etc.). Hirers, dealers and training members have, as a requirement of their membership, to use mainly Mobile Access Towers which carry the current British Standard Kitemark or equivalent mark of approval.
Quality Products for the Industry
We can provide our customers with a wealth of information regarding our products to make the process of purchasing from our site both straight forward and enjoyable. Our aim is to ensure that you, our customers are confident that you have purchased the correct products at the most competitive prices available.
Why pay more?

We are passionate about British made, craftsman built, high quality products.
As you deal direct with the manufacturer, there are no middlemen, no shops, no dealers, making our prices exceptionally good value. all at factory direct prices!


Sold to the hire industry, tradesman & end users throughout the UK at realistic prices.
Questions to ask before you buy?
Health & Safety Executive?
Do you want to comply with The
Do you want a British standard KITEMARKED product
Looking for a quality scaffold tower system at the right price?
Want to deal direct with no middleman adding their margins?
Do you want to get this purchase right?
If you have any questions regarding what size towers you should be purchasing or even what type of scaffolding would be correct for you, please do not hesitate to contact us.
We are here to help with all your access needs no matter how low. As of 2010, we now have our own
in-house health and safety officer
available to answer all your questions on best practices and procedures when dealing with working at height. He will also be available to answer question not just related to scaffold towers but all types of health and safety.